WPP threatens to strip Sorrell of share awards worth £20m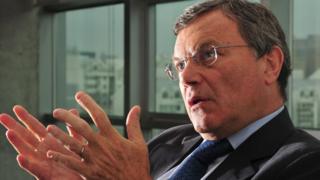 WPP has threatened to take away share awards worth millions from its former chief executive Sir Martin Sorrell over his rival bid for digital production company MediaMonks.
The share awards are potentially worth about £20m, Sky News reported.
Dutch firm Mediamonks is facing takeover bids from both WPP and Sir Martin's new S4 Capital venture.
A source close to Sir Martin told the BBC: "I would say WPP are trying to muddy the waters, stir things up".
Speaking on condition of anonymity, the source said that WPP's lawyers had written to Sir Martin claiming that was likely to be in breach of his confidentiality obligations.
He added: "If WPP is going to start some sort of procedural process, Sir Martin will fight it. But this guy is worth £400m to £500m. He is not going to allow £20m to stand in the way what he is trying to do."
He described relations between Sir Martin and the advertising company he founded, WPP, as "obviously not very good."
He added: "He is not out to damage WPP. He is still one of the largest, if not the largest private shareholder in WPP, so why would he want to do that?"
Sir Martin bought WPP in 1985 and turned it into the world's biggest advertising and media company with revenues of £15bn.
However, he stepped down as chief executive in April after the board said it was investigating claims of misconduct.
There were allegations relating to the use of company funds to pay for a prostitute, which Sir Martin has denied.
WPP later said its board had appointed independent counsel to conduct the investigation.
Within weeks of leaving WPP, Sir Martin had bought a shell company, and renamed it S4 Capital.
He described it as "a company that aims to build a multinational communication services business focused on growth."