Piper Alpha: Victim's son speaks of 'irrational fear' for his own children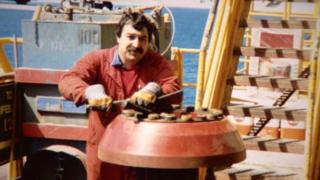 The son of a man who died in the Piper Alpha disaster 30 years ago is "frustrated and bemused" at lessons he believes have still not been learned.
The platform exploded on 6 July 1988, leaving 167 men dead.
Barry Stott was just three when his father James, 40, lost his life.
Speaking for the first time ahead of Friday's 30th anniversary, Mr Stott has an "irrational fear" of something happening to him when his children are the same young age as he was.
His father worked as a plumber on the Piper Alpha platform.
His body was recovered several weeks after the disaster, which followed a gas leak.
Sixty-one men survived, some of whom jumped from the rig's helicopter deck into the sea.
Mr Stott, 33, who now works in the industry himself, said he is concerned by recent warnings to operators over hydrocarbon releases.
The Health and Safety Executive (HSE) said in April it has written to all oil and gas operators expressing concern about the number of gas releases in the industry.
The regulator said some had come "perilously close to disaster" and that more needed to be done to tackle them.
Mr Stott told BBC Scotland: "I am frustrated in a pretty big way that 30-year-old lessons haven't been learned and that another Piper could be on the horizon if things aren't changed.
"I find that frustrating and slightly bemusing.
"How can that still be possible? I don't think there would be any other industry in the world where 30 years on from such a seismic disaster we were on the verge of the same thing happening again?
"That's not my opinion, that's what I'm reading, from the HSE and others.
"It's a growing concern for the whole city and the whole industry."
Lord Cullen's report into the disaster after a 13-month inquiry led to radical overhaul of safety practices.
In August last year, Lord Cullen himself expressed fears that offshore workers still worry about raising safety concerns.
'Big moment'
Mr Stott said the disaster has affected him more as the years go on.
He said: "I know some of what happened to my dad, I don't know everything, some of that's by choice.
"Most of my memories are probably not my own memories, they're more stories from relatives, and friends who loved him.
"It's left my kids without a granddad, which I only realised was as important as it was when I became a dad.
"It's a big moment in your life becoming a dad.
"For a guy it's probably nice sharing it with his dad, as well as his mum."
Names read aloud
He explained: "It has left me with somewhat of an irrational fear that something will happen to me when either of my kids are three which is the age I was.
"It's irrational but it's still there."
Those who died will be remembered at a service at the Piper Alpha Memorial Garden in Aberdeen's Hazlehead Park on Friday evening.
The names of the 167 men who lost their lives will be read aloud.
The service will also be streamed live on the UK Oil and Gas Chaplaincy Facebook page.