Scottish government fails to meet its RET deadline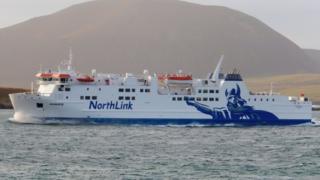 The Scottish government has failed to meet a self-imposed deadline to introduce Road Equivalent Tariff to the Northern Isles by the end of the month.
Ferry fares to Shetland will come down by 20% but there will be no reductions - for now - on routes to Orkney.
RET subsidies are designed to mitigate the extra costs of travel to and from island communities.
Transport Secretary Michael Matheson blamed state aid rules, and the failure to do a deal with all operators.
The previous transport and islands minister, Humza Yousaf, had promised RET would be brought in "in the first half of 2018".
'Complex and challenging'
The subsidies were introduced on ferries to and from the Hebrides in 2008.
Mr Matheson said "The Scottish government remains committed to delivering reduced ferry fares to the Northern Isles.
"It is already very clear to me that planning to introduce reduced fares on the Northern Isles network has been ... complex and challenging."
He added that "unfortunately" not all the commercial operators on the Pentland Firth routes had been able to agree to the government's proposals.
"This means we cannot currently implement reduced fares on any of the routes to and from Orkney without the risk of legal challenge," he said.
The leader of Orkney Islands Council, James Stockan told BBC Radio Orkney the news was "very hard to believe".
'Utter dismay'
Orkney's MSP Liam McArthur said "This news will be met with utter dismay locally and means that islanders and visitors alike will be forced to continue paying more than they should to access our lifeline ferry routes.
"People in Orkney have every right to expect both sides to get this sorted without delay."
The government has not identified the operator who has failed to sign up to an RET deal.
But a spokesman for Pentland Ferries said "We are very supportive of the Scottish government's proposal to provide a direct passenger subsidy."
He added the company was "working with the Scottish government to ensure that the scheme is fully compliant with EU state aid and competition rules to ensure that any passenger subsidy is not, at some future point, deemed illegal."
Michael Matheson said he was determined to work through the issue to see what more could be done.
"I have asked Transport Scotland to undertake some further work to see what measures, if any, we can take," he said.
"As part of that, we are willing to reopen talks with commercial operators.
"I will provide a further update to stakeholders and to parliament as soon as I can."