Hoax coastguard distress call released by police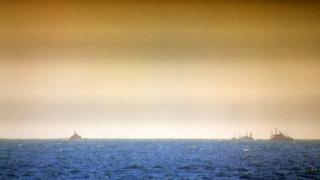 A recording of a hoax distress call which sparked a major rescue operation has been released by police.
The mayday radio message was received on 18 June reporting that a boat with people on board was in trouble in the Moray Firth
Three lifeboats, a coastguard helicopter and fishing vessels joined the operation but nothing was found.
Police said the call was believed to have been made from the Banff and Macduff area.
The caller appears to say: "Mayday, mayday, mayday. Silver Tide, Silver Tide. Three P.O.B. Abandon ship. Abandon. Off Tarlair."
Insp Megan Heathershaw said she hoped that by taking the unusual step of releasing the audio, police would be able to trace the person responsible.
She said: "Any distress call made to the emergency services will be taken seriously and these calls have led to the intensive use of time and resources by the coastguard and other emergency services.
"We have taken the relatively unusual step of releasing a copy of this call to the public and appeal for help in identifying the person responsible.
"I would ask for anyone who recognises the voice on the transmission to please contact us as soon as possible.
"Likewise I would also appeal to this person directly to get in touch with us.
"We would ask that anyone with information gets in touch with police on 101 using reference number PS-20180619-1402. Information can also be passed anonymously to Crimestoppers on 0800 555 111."
Previous incidents
The hoax was the latest in a series of incidents that have led to search operations being mounted.
In April, a major search off the north east of Scotland coast was called off when nothing was found following a mayday alert.
Just days earlier, Invergordon lifeboat had made a search of the Moray Firth coastline after a spoken mayday call.
That search was also later stood down.
And in November, a distress call reporting that a fishing boat had broken down and was in difficulty was treated as a hoax.
RNLI Invergordon lifeboat was launched, but following a search of Munlochy Bay in the Moray Firth, the lifeboat crew was stood down after finding no vessel in difficulty.