Man caught after lost girlfriend asked police for directions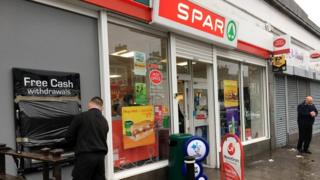 A member of a gang who caused an explosion in Aberdeen as they tried to raid a cash machine was caught after his girlfriend got lost and asked police for directions.
Officers smelled cannabis from the car and detained all the occupants including Ellis Boyd, and got a DNA match for him linking him to the ATM.
Boyd, 26, and Ian Jones, 33, admitted their role in the March raid.
Sentence at the High Court in Edinburgh was deferred.
The incident happened at the Spar at Clifton Road in the early hours of 6 March.
The pair, both from Liverpool, admitted unlawfully and maliciously causing an explosion likely to endanger life or cause serious damage to property at the shop by feeding tubing attached to a gas cylinder into the ATM and igniting it.
The pair also pled guilty to attempting to force open the cash dispenser, while acting with others and with their faces masked, with intent to steal from it.
'Became concerned'
Advocate depute David Taylor said that in the early hours of 31 March police on foot patrol in St Nicholas Street in Aberdeen was flagged down by Boyd's partner who was driving a Vauxhall Astra.
The prosecutor said: "She was apparently lost and seeking directions. Officers became concerned about the apparent smell of cannabis emanating from the vehicle and detained all the occupants."
Boyd was detained because of suspicions about possession of the drug but a DNA hit on a database linked him to a sample taken at the explosion scene.
His DNA was found on copper piping at the end of a hose that was fed into the ATM's cash dispensing slot.
The judge, Lady Scott, deferred sentence on the pair for the preparation of background reports on both men.