Parents want apology after baby abuse 'signs' caused by milk allergy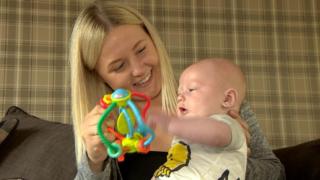 The parents of a baby want an apology after suspicions of abuse were raised before a milk allergy was diagnosed.
Natalie Whyte and Marc Sutherland had raised concerns about son Callan's health in April as they believed it was something other than colic.
They said abuse suspicions were then investigated by the police before a dairy intolerance was diagnosed.
Police said such concerns had to be looked into. NHS Grampian said the complaint was under investigation.
Ms Whyte, 28, of Auchleven, Aberdeenshire, also has a seven-year-old daughter called Lucy.
She said: "Our lives were turned completely upside down. We were reported to social work, public protection and the police on suspicion of abusing our seven-week-old son.
"He had been suffering from what the health visitor advised was just a bit of colic which is apparently very common in babies that age, however we kept reporting that we were convinced there was something not right with him."
'Emotional distress'
They found that Callan would go red and swollen, be agitated and scream.
Ms Whyte said: "My health visitor came round. She started asking me if Lucy would have hurt Callan and been too scared to tell me.
"Lucy was in the house at the time and heard her say this. She was distraught that anyone would think she would hurt her baby brother.
"She skated around asking me if it was Marc and began asking me if I felt safe around him and if I thought my kids were safe in my home.
"That night the paediatrician told us this was an abuse investigation and that if we tried to leave the hospital with our son we would both be arrested.
"I was horrified. I couldn't believe that we had raised concerns for our son's health and then at the end of the week of raising these concerns we were told we couldn't take him home or we were going to be in serious trouble.
"I don't have the words, I was devastated I couldn't believe it was happening."
'Work tirelessly'
She said they then endured five days of interviews and were not allowed to be around the children unsupervised.
Ms Whyte said: "Since then, Callan has been diagnosed with a dairy allergy. His formula has been changed and he has no symptoms anymore.
"We knew something wasn't right. The emotional distress this has caused us has really affected us."
She added: "I really don't want this to happen to other families. We totally realise we have to have these child protection laws in place. But I believe there needs to be further testing before they get to that."
An NHS Grampian spokeswoman said: "Ms Whyte and her family have raised their concerns directly with us.
"As this matter is currently under investigation it would be inappropriate for us to comment further at this time."
Det Insp David Howieson of Police Scotland said: "When concerns about children are raised to police - no matter the nature - they must be taken seriously until the full circumstances are established.
"In this case, a report was received from a partner agency and inquiries were subsequently carried out, with all those involved updated at each stage.
"North East Division Public Protection Unit takes the protection of children extremely seriously and works tirelessly to ensure our protection systems are as effective as possible."