Man thanks ambulance staff after surviving 15 cardiac arrests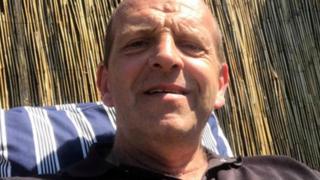 A man who survived 15 cardiac arrests in three hours has thanked ambulance staff for helping to save his life.
Ian Clark, 52, was at home in Elrick, near Westhill, Aberdeenshire, when he had his first cardiac arrest.
His wife called 999 and his eldest son performed CPR until an ambulance arrived.
It is believed he had three arrests at home, three in the ambulance, and the remainder at Aberdeen Royal Infirmary.
Mr Clark said: "I fell and caught my eye socket on the fireplace. That's when my heart stopped.
"I remember having my soup and then the next thing I know I'm in intensive care. I thought I had been in a crash."
'It's a miracle'
He explained of his survival: "I was very, very emotional. I felt so lucky to be alive. It still gets me emotional today when I think about it. Someone was looking over me that day.
"I am 100% thankful to the ambulance service staff. Very, very thankful for the small mercies.
"I just want to thank everyone for helping me, the doctors, the nurses, paramedics. I might not be here today if it wasn't for everyone. There's nothing in the world I could give back to them - they save my life. My heart just stopped.
"It's a miracle, definitely a miracle."
Mr Clark has been recovering at home since the incident in August last year.
The ambulance crew of Deborah Cameron and Claire Allan had assistance from Aberdeen's paramedic response unit, manned by Calum Moir.
Ewan Murray, the Scottish Ambulance Service area manager for Grampian said: "It is great to hear Ian's story and how he was assisted by the crew at Huntly, and by the paramedic response unit from Aberdeen.
"Our staff, including our call handlers and dispatchers, are trained to deal with life-threatening situations on a daily basis and encounter man challenging incidents.
"They do it day-in, day out with no expectation any reward, so to get thanks from Ian, is wonderful to hear. I hope Ian continues his recovery."