Coastguards believe Moray Firth mayday call was a hoax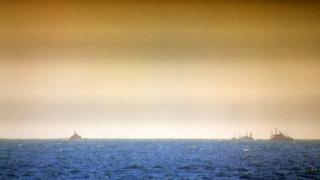 Coastguards are "fairly confident" a distress call which sparked a major rescue operation in the Moray Firth was a hoax.
A mayday radio message was received shortly before 18:00 on Monday reporting that three people were abandoning their boat.
Three lifeboats, a coastguard helicopter and fishing vessels joined the operation but nothing was found.
Coastguards said such transmissions had to be treated as real.
HM Coastguard duty controller Matthew West said: "Given the fact that no further information has come forward regarding last night's incident in the Moray Firth, we are now fairly confident that this was a hoax call.
"If we think someone's in danger or in trouble we will always search for them rather than risk loss of life."
'Hold as evidence'
He continued: "We would like to take this opportunity to remind people that making deliberate, false or misleading calls is against the law and we treat it very seriously.
"We keep a record of these calls and hold those records as evidence for future prosecutions.
"Have no doubt, if you've been identified as making a hoax call, the Maritime and Coastguard Agency will seek to prosecute offenders to the fullest extent of the law."
Mr West explained: "Not only do hoax calls waste the valuable time of our Coastguard officers, volunteers and resources such as the RNLI and our aircraft while searching; it also may be putting other lives at risk by diverting our resources away from genuine emergencies.
"It also puts our emergency services' crews lives at risk as they searched for nearly five hours in rough weather conditions with nothing found."
With no sign of any vessel in distress, the operation was suspended at about 22:30. No-one has been reported missing.
Previous searches
It was unclear what kind of vessel had been thought to be in difficulty.
The vessel name that was given in the mayday call was Silver Tide.
In April, a major search off the north east of Scotland coast was called off when nothing was found following a mayday alert.
Just days earlier, Invergordon lifeboat had made a search of the Moray Firth coastline after a spoken mayday call.
That search was also later stood down.
And in November, a distress call reporting that a fishing boat had broken down and was in difficulty was treated as a hoax.
RNLI Invergordon lifeboat was launched, but following a search of Munlochy Bay in the Moray Firth, the lifeboat crew was stood down after finding no vessel in difficulty.