Morris Minor Aberdeen to Cape Town trip in father's memory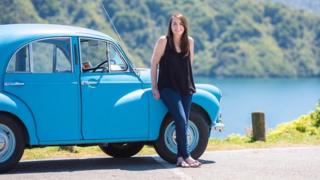 A woman is driving 9,000 miles from Aberdeen to Cape Town in her father's 1958 Morris Minor to raise money for charity in his memory.
Laura Morrison's car-loving father Neil, who died two years ago, was born in Aberdeen.
Now the 35-year-old has arrived in Scotland from her home in New Zealand and has embarked on the six-month quest to South Africa.
She said: "He always wanted to drive from Aberdeen to Cape Town."
The aim is to raise £15,000 for the Cancer Society, and more than half the target has already been reached.
'Shared love'
She told the BBC Scotland news website: "We shared a love of this car.
"Unfortunately he never got to do this drive as he passed away from melanoma in 2016.
"I drove from Picton to Auckland and shipped the car from Auckland to Aberdeen.
"I am now driving all the way through the UK and Europe, then through Africa down to Cape Town."
She added: "There will be a lot of camping, and I'll have company some of the way, and meet a lot of people.
"I couldn't think of anything more significant than completing this journey in my dad's name."