Arctic walrus Wally turns up at Skerries in Shetland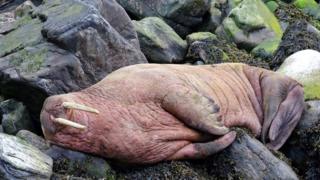 A walrus which has been on a tour of Scotland has now appeared in Shetland.
The Arctic walrus - nicknamed Wally - first appeared in Orkney in March before turning up on the west coast.
It has now moved on to Skerries where it has been attracting plenty of interest from people keen to catch a glimpse of the unusual visitor
Last month, Tom Arnbom, a senior adviser to WWF on the Arctic, said it was "really rare" for a walrus to show up outside the Arctic.
Mr Arnbom said he expected the walrus would be able to survive for a considerable time in Scottish waters as long as it could find food.