'Murder plot' motorbike theft was reported to police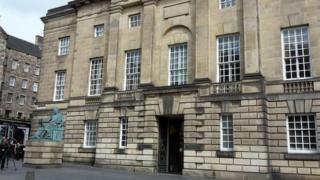 A man who was allegedly part of a plot to murder a "drug dealer" in Aberdeen reported the theft of his gang's "getaway" motorbike to police, a court has heard.
Warren Keating, 29, Darren Summers, 30, and Jeff Binnie, 24, deny conspiring to kill a man called Henry Stephen.
The man who cannot be named for legal reasons phoned Police Scotland after the bike was taken in Aberdeen in 2016.
A court heard the bike was going to be used to help track down Mr Stephen.
The High Court in Edinburgh was told Mr Stephen had fallen out with someone called "PJ" over a girl and drugs.
PJ allegedly commissioned Mr Keating and Mr Summers to carry out the hit with Mr Binnie and the other male who cannot be identified.
'Weren't happy'
Witness Antonia Neill said she bought four black tracksuits and two mobile phones for the men which were going to be used.
And Ms Neill also said the men obtained a motorbike which they would use to track down Mr Stephen and then to escape.
However, the court heard that the bike was stolen, prompting the man to contact the police to report its theft.
Speaking about how the theft of the bike impacted on the men, Ms Neill told prosecution lawyer David Taylor: "They weren't very happy."
The court heard that police learned she was keeping a gun in her house and detained her in late 2016.
The court heard that she was convicted of firearms offences at the High Court in Glasgow last year and received a community payback order.
Prosecutors allege the men planned to murder Mr Stephen "in return for a payment of a sum of money".
The trial, which is being heard before judge Lady Scott, continues.