Therapy dog aims to calm Aberdeen International Airport passengers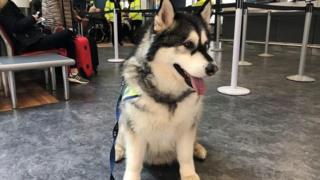 A therapy dog has been used at Aberdeen International Airport in what is claimed to be a UK first.
Harley, a rescue malamute, has been helping travellers who may be feeling stressed, and some with disabilities.
Harley - and owner Niel Chisholm - have been working on a trial basis. It is hoped Harley could become a permanent feature.
The airport said therapy dogs were quite common in American airports but it was not aware of any in the UK.
Mr Chisholm said: "When we go to the airport we start at the assistance check-in, where people with disabilities go.
"We then have a wander round past check-in, through security and duty free - 99% of the reactions have been positive.
"Harley just does his magic, everybody loves him, but we always ask before approaching someone as not all are dog lovers.
"At all times I monitor Harley as his wellbeing comes first. He gets plenty of breaks."
Airport duty manager Fraser Bain said: "He is a beautiful dog with such a gentle nature that people warmed to him straight away.
"We are keen to explore further ways of how Harley can be of benefit to passengers travelling through the airport."