Scottish government loses prisoner attack damages appeal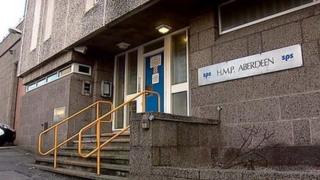 The Scottish government has lost an appeal in a £900,000 damages action brought by a prisoner who was the victim of a racially-aggravated assault in Aberdeen's Craiginches Prison.
Daniel Kaizer, 35, claimed the prison system failed to protect him from Keith Porter.
Mr Kaizer, from Poland, suffered a fractured skull after being attacked with a weightlifting bar in 2009.
He raised a successful action against the Scottish government.
The question of the amount of damages to be paid remained outstanding.
Ministers, who are responsible for the Scottish Prison Service, challenged the decision by a judge last year that they were liable.
But Scotland's senior judge, the Lord President, Lord Carloway, sitting with Lord Brodie and Lord Drummond Young, have rejected the challenge.
Earlier threat
The victim said the prison system failed to protect him from his attacker after he was subjected to a threat by Porter in the gym about a week before the attack.
He informed a prison officer, but no report was made of the incident.
Porter - who had also tried to murder another Polish man - was given a life sentence under an Order for Lifelong Restriction following the attack on Mr Kaizer.
Porter was in jail after an attack on Jaroslaw Janeczek in Aberdeen, with a wooden mop handle.
Craiginches Prison closed in 2014.