Hilton DoubleTree Hotel in Aberdeen re-labelled food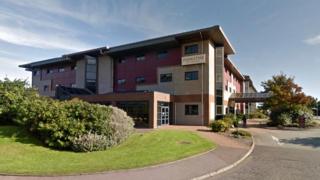 Out-of-date and unfit food items had to be disposed of at an Aberdeen hotel after an inspection raised serious concerns, a report has revealed.
The inspection of the Hilton DoubleTree Hotel found food had been re-labelled to extend its shelf life.
Dozens of containers of items - including discoloured meat and mouldy cheesecake - had to be disposed of.
A spokesman for the DoubleTree said it has adjusted its processes and conducted training.
The food hygiene inspection at the hotel, near Aberdeen beach, was carried out on 8 February.
Some new labels had been placed directly over the top of old labels.
Sticky handles
Environmental Health officers found sandwiches had been covered with a wet cloth, and fridge handles were dirty and sticky.
Aberdeen City Council said in a statement: "The report followed a routine inspection, carried out in line with procedure.
"The food business operator resolved the immediate issues at the time of the inspection."
A spokesman for the DoubleTree said: 'We expect to uphold the highest of standards when it comes to food preparation at our hotel.
"We have been working closely to fully address the matters raised in the report.
"As a result we have adjusted our processes and conducted training sessions for our team members, the EHO (Environmental Health officers) re-visited us in March and have indicated they are satisfied with the measures we have taken."
The spokesman added: "The hotel had not received any food poisoning complaints in the period leading up to the February report."
'Breaking rules'
Ian McWatt, director of operations at Food Standards Scotland, said: "Scottish local authority environmental health officers have a crucial role to play in enforcing food law at a local level and work closely with food businesses to make sure they are meeting the requirements of food hygiene regulations.
"In cases where compliance levels fall short of required standards, appropriate action is taken to ensure public health is protected.
"It's extremely important that people in Scotland can trust the food they eat and every food business has a responsibility to produce food that is safe and does not mislead consumers."
Prof Hugh Pennington, a leading bacteriologist, told BBC Scotland of the report: "I'm amazed. It's not just one or two foods.
"They were breaking rules. They have a food safety system and it wasn't being followed."