Moray Council leader rejects turmoil and chaos claims over coalition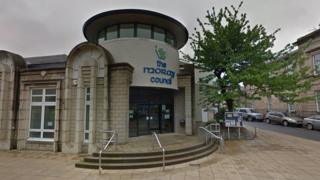 The leader of Moray Council has rejected claims of "turmoil and chaos", after Conservative councillors withdrew from the ruling coalition.
Moray Council was run by a coalition of Conservatives and independents, until seven of the party's members walked away from the administration on Monday.
Talks are being held about finding a way forward.
Council leader George Alexander said the authority was an "important juncture".
The Conservatives said the decision followed years of Scottish government cuts to the council's budget which had brought the council to the brink of bankruptcy.
Seven of the eight Conservatives withdrew, with convener James Allan remaining.
'Absolute rubbish'
Conservative group leader Tim Eagle said on Monday: "We cannot continue in the same old way. There is clearly no appetite for the changes we feel are essential and the result is deadlock."
Mr Alexander, an independent, told BBC Radio's Good Morning Scotland programme in response on Tuesday: "It doesn't do the reputation of Moray any good whatsoever and I very much regret this has happened.
"I have done two things, I have spoken to the opposition leaders, explained to them what the situation is, and left them to go off and think about it. I have also sent an email to all councillors.
"I am seeing headlines saying there is turmoil and chaos, that's absolute rubbish.
"Hopefully we'll have this resolved before the recess in July."
'Stable administration'
He added: "I sometimes wonder if those who get elected really appreciate how great their responsibilities are to all of Moray, never mind their wards, and we really are at a very important juncture just now.
"I did my best to create a stable administration, this time last year I succeeded in creating an administration, I have to confess I was never 100% sure it would last the five years, and unfortunately that's been proved to be the case.
"But I am sure some of the councillors will step up to the mark and create a new administration formally and do what the people of Moray deserve when they elected their councillors."