Tractor football takes to the field for Fettercairn tournament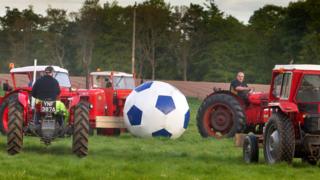 Tractors are to use a giant football for a tournament with a difference.
The specially-made ball - 6ft in diameter - will be used by four teams at the Fettercairn Show on 7 July.
The three-vintage-tractor-a-side games will be 15 minutes each way, with the two winners of the semi-final matches meeting in the final.
Mike Robertson, chairman of Mearns Vintage Vehicle Club, said: "The ball took quite a bit of making. And the pitch will have a buffer round it."
He explained: "The ball will be getting a bit of a hard time.
"The goals will be two bales, about 20 yards apart, but there will be no goalkeepers.
"We'll have to look at what to do if we have penalties.
"We just wanted to do something a bit different."
The tractors for each team will be orange, blue, red and grey.