Troubled leisure centre's lease extended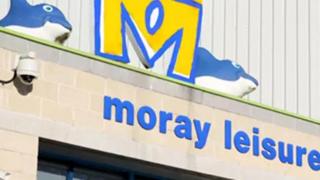 The future of the Moray Leisure Centre in Elgin has been secured for another year following a decision by councillors to extend its lease.
Moray Leisure Centre is owned by the local authority, but a charity was brought in to advise on how to improve performance.
Councillors have now voted for a one-year extension of the lease, which will include the annual subsidy of £698,000.
An extra £120,000 will be made available to cover additional costs.
'Quality of life'
Moray Council said this option offered the best future for the centre, its 55 staff, and for residents in Moray.
The council said the facility has been in difficulty following the long-term absence through sickness of its manager and senior staff.
Council leader George Alexander told BBC Scotland: "It is indeed extremely difficult to justify doing this at this time if you just look at the raw cash.
"But we also had to look at good quality of life in Moray, also to allow 55 members of staff to be made redundant without trying out this recovery plan I think would have been rather irresponsible."