Catterline getting £540,000 coastal protection work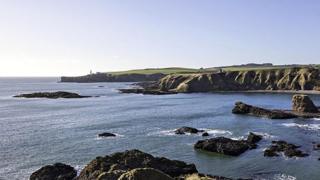 The village of Catterline in Aberdeenshire is to benefit from £540,000 of funding aimed at combating coastal erosion, flooding and landslides.
A team of engineers from Glasgow Caledonian University (GCU) will devise eco-friendly ways to protect the area over the next four years.
It is part of a £10.8m EU Horizon 2020 fund across Europe.
Catterline was home to artist Joan Eardley and inspired her paintings.
The project will see trees, reclaimed timber, debris and biodegradable material used to shore up the bay's defences.
Prof Rohinton Emmanuel, principal investigator of the project for GCU, said: "It's a very scenic area and we want to protect its natural beauty.
"We are looking to do something different with natural solutions that produce the same goals as conventional engineering.
"We will come up with a strategy with the people there.
"It's civil engineering but it's not grey, it's not concrete, it's using nature in a different way."
Discussions will take place with residents, landowners and community groups when the project formally starts in July.
The other test sites are in Finland, Germany, Netherlands, Austria, Italy, and Greece.