SSEN's renewed optimism over Shetland to Caithness cable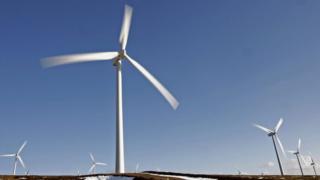 Scottish and Southern Electricity Networks (SSEN) hopes to progress its plan for a 161-mile (260km) long subsea transmission cable.
Only about six miles (10km) of the cable between Upper Kergord in Shetland and Noss Head in Caithness would be on land.
SSEN has been developing the proposal for more than a decade.
It is holding a meeting in Shetland on 23 May with renewable energy developers to discuss how they could be involved.
The High Voltage Direct Current (HVDC) subsea transmission link would allow renewable energy developers on the islands to export electricity to the UK mainland grid.
SSEN said "several factors", including financial barriers, government policy and the readiness of developers, had delayed the laying of the cable.
However, it has renewed optimism about the project following a UK government decision to allow remote island wind projects to compete for support in its next subsidy allocation, known as Contracts for Difference, in spring 2019.
SSEN said this had opened up the potential for significant volumes of new renewable generation looking to connect in Shetland, both at transmission and distribution level.