Council misses 15-year deadline to spend roads cash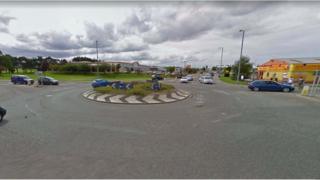 A cash-strapped council is to repay £168,000 to a developer after failing to spend the money for 15 years.
Springfield Properties paid the cash to Moray Council in 2003 to help improve transport links in Elgin.
However, councillors voted in 2016 to scrap the plan and then failed to come up with an alternative before a 15-year deadline to use the cash kicked in.
The council said it was "regrettable" and must now repay the money with interest before 20 August.
Springfield Properties made the payment to Moray Council as part of plans to alleviate congestion in Elgin after new developments in the south of the town.
'Other avenues'
The cash was earmarked as a contribution towards a link between the A96 and Elgin's Edgar Road retail park.
When that plan was scrapped in 2016, delays in drawing up alternative schemes to ease congestion at the Laichmoray roundabout, meant time to spend the money ran out.
In a statement, Moray Council said: "It's regrettable that this £168k developer contribution could not have been used for the Elgin Link Road as envisaged.
"It was earmarked for that project from 2003, but following councillors decision to abandon the road development in 2016 other avenues for its use were explored.
"However, under the terms of the developer contribution no other scheme could be funded with this money, so it will be returned plus interest."
A council spokesman said the funds to repay the cash would not come from the council's general budget.
He added: "It has been set aside and ring-fenced from day one and its repayment will have no impact on the council's overall financial position."
In March the council said it was struggling to balance it books and would use £4m from its reserves to meet its 2018-19 budget obligations.
Moray Council has also said compulsory job losses were expected as they attempted to make cuts of more than £6.5m to its annual budget.