Young offender return at HMP Grampian in Peterhead 'not happening'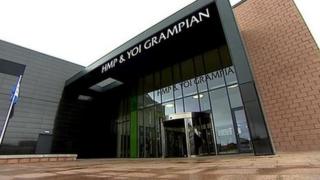 There are no plans to return young offenders to HMP Grampian in Peterhead, the Scottish Prison Service (SPS) has said.
It opened in 2014, but it is claimed there are more opportunities for detainees at Polmont in Falkirk.
HMP Grampian had only been open for two months when a riot broke out, resulting in all youths being transferred to Polmont.
Serious damage was caused to the Ellon wing, and the area is still empty.
The SPS said a wider range of activities and opportunities could be offered at Polmont, that could not easily be replicated at HMP Grampian.
There has been a significant reduction in the number of young people coming in to custody, it added.
HMP Grampian opened as a replacement for HMP Peterhead and HMP Aberdeen.