Oil and gas industry 'needs 10,000 new roles' over next 20 years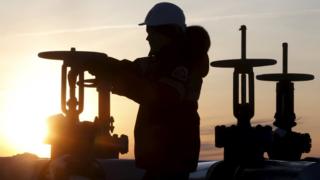 About 10,000 new oil and gas roles need to be created over the next 20 years to cope with the changing demands of the industry, it has been claimed.
Skills and workforce body Opito said about 40,000 recruits are needed.
A quarter of those would be new roles that do not currently exist - from data to robotics.
However, Opito estimates 80,000 people will have left by then, meaning a total workforce of 130,000 compared to the current 170,000.
It is hoped the research will help in the development of a new strategy, to ensure the industry is as ready as possible to make changes needed.
'More gradual process'
John McDonald, chief executive officer of Opito, said: "As the industry emerges from the downturn, it is crucial that we take a longer term look at the future UK oil and gas skills requirements.
"A new skills strategy will help us to take action now to prepare for emerging roles and ensure the existing workforce is being given opportunities to up-skill.
"Whilst total employment will fall over the next two decades, this will be a more gradual process than the sharp hit experienced over the last three years."
He added: "If the industry can work together to achieve ambitions around production and energy diversification, tens of thousands more roles can be safeguarded and our industry will continue to be one of the key industrial sectors in the UK for years to come."
'Really thoughtful'
Deirdre Michie, chief executive of industry body Oil and Gas UK, said: "I think that one of the great insights in the report is that if we work to one of the scenarios proposed, we will be in 2035 a 70-year-old industry that is still producing around one million barrels a day.
"That is extraordinary by anyone's standards.
"The other thing that came out of the report was we need to be really thoughtful of the kind of skills this industry is going to have to embrace and move towards as we adapt and move to a more technologically appropriate age, in the same way other industries are."
The UKCS Workforce Dynamics Review by Opito was in partnership with Aberdeen-based Robert Gordon University's (RGU) Oil and Gas Institute.