Aberdeenshire Council seeking Aberdeen bypass compensation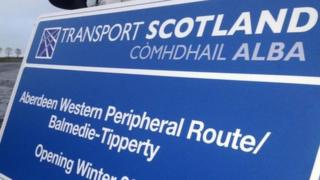 Aberdeenshire Council is seeking compensation which could run into millions of pounds for damage caused to its roads by construction traffic on the Aberdeen bypass.
The bypass has been under construction for more than three years and is now expected to open later this year.
Aberdeenshire Council said the volume and weight of vehicles using the local road network had been "extraordinary".
Transport Scotland said discussions with roads authorities were ongoing.
The 28-mile bypass - one of Scotland's biggest infrastructure projects - has a price tag of £745m.
'Significant damage'
Philip McKay, Aberdeenshire Council's head of roads, landscape and waste services, said: "Unfortunately, the volume and weight of this traffic has been extraordinary and far out with the normal traffic loading that our more minor roads are accustomed to.
"This has led to significant damage to some routes and the maintenance costs are greatly above what would be expected for the average cost to maintain these type of rural roads.
"Therefore Aberdeenshire Council is in discussion with Aberdeen Roads Limited (ARL) with a view to agreeing appropriate recompense for the repair of these damaged roads."
A Transport Scotland spokesman said: "The contractor for the project has confirmed its project team hold regular coordination meetings with the relevant roads authorities.
"It also confirms it has obtained all permissions from Aberdeenshire Council to use the existing road network when required.
"ARL is currently in ongoing dialogue with roads authorities, but these discussions have not yet concluded."
The construction of the route is behind schedule, and is due to open in the autumn.