Toy pirate ship 'pinging again' as it crosses Atlantic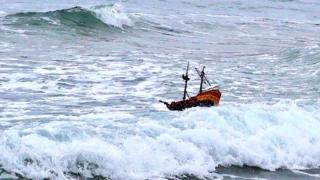 A family tracking the progress of a toy boat voyaging across the Atlantic from Aberdeenshire say they have received a signal from the craft again - after fears its batteries had run out.
The Playmobil pirate ship was launched from Peterhead last May by Ollie Ferguson, eight, and Harry, five.
It initially reached Scandinavia, and was then relaunched off Africa.
The boys' father, MacNeill Ferguson, told BBC Scotland: "She's started pinging again."
The boys launched the toy ship, named Adventure, as part of a bucket list of adventures they put together.
The boat needed some adaptations before it was ready to tackle the North Sea.
A counterweight was added to help it stay upright, and it was filled with polystyrene to help it stay afloat.
The ship carries a message asking anyone who finds it to launch Adventure back into the sea.
Speaking on the Good Morning Scotland radio programme, their dad said: "We've been following her for the last five months, crossing the Atlantic, and just over a week ago she stopped pinging us locations and we assumed that was it, we had lost her, and the batteries had died.
"Last night I just went on again to have a quick look, just out of habit more than expecting to see something, and she started pinging again, which is amazing.
"She's about 100 miles south of Barbados just now and she's making a beeline for St Vincent and the Grenadines."
Sighting appeal
The boat has done more than 3,000 miles. It sailed hundreds of miles to Denmark after its initial launch from Peterhead. It then made it to Sweden and Norway.
It was taken aboard the Christian Radich, a Norwegian full-rigged ship, and then launched off the coast of Mauritania.
Mr Ferguson said: "The boys were devastated last week when we realised she had stopped pinging and we thought the battery had died.
"I couldn't wait to tell them when they got up this morning, and they are over the moon."
He added: "If anyone in the area or vessels can help please get in touch. Those batteries need recharged.
"It's just a USB port, as long as she is floating and recharged she will be fine."
It emerged last month that offshore vessels were keeping a lookout.