Headless great auk statue sparks renewed interest in the extinct bird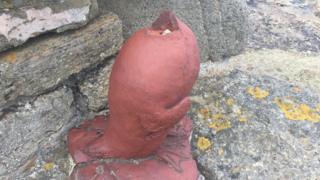 Damage to a statue of an extinct bird in Orkney has prompted debate about whether the memorial should be replaced or repaired.
It was installed on a specially-built cairn at Fowl Craig at the north end of Papa Westray, to commemorate a great auk shot there in 1813. .
The red clay bird has now lost its head due, it's believed, to weather damage.
A new statue could be scanned from the stuffed specimen, which is now in the Natural History Museum.
Great auks were hunted to extinction by the middle of the 19th Century. The bird shot in Papa Westray (also known as Papay) was one of the last recorded in the British Isles.
Six years later, in 1819, the bird's stuffed remains were purchased by the Natural History Museum, and it is only British specimen in existence.
There were reported sightings including in the St Kilda archipelago after the Orkney bird was killed but it is believed the species was extinct by the mid 1850s.
There is evidence that as the species became rarer, collectors became more desperate to acquire a specimen.
Jonathan Ford, the ranger on Papa Westray told BBC Radio Orkney he doesn't think the damage is the result of vandalism.
"Obviously, on Fowl Craig on the very north end of Papay it does get a little bit breezy sometimes.
"We think that water has got into it, perhaps through a tiny crack, and then there's been a bit of freeze thaw action, and then it's actually broken the head off.
"Luckily, I walked past it one day probably just after its head and fallen off, and managed to rescue it."
It is thought the memorial was commissioned by the Orkney Field Club. Jonathan Ford says he is now researching how that came about.
"I've asked a few folk around Papay and they know little bits about it, but not as much as I need. So it would be good to find out what that process was."
He is also keen to trace examples of souvenir badges that were given to people when the statue was unveiled.
But as well as repairing the existing work, Jonathan Ford wants to explore the possibility of replacing it with a life-sized model scanned from the taxidermy specimen preserved in the museum
"For the two hundredth anniversary five years ago we got a hologram made of that auk and brought it up to Papay", he said.
It would be nice to use to technology to 3D print a version of it, and maybe get a bronze cast version of the actual auk."