Louis the first: Couple have royal baby name 'bragging rights'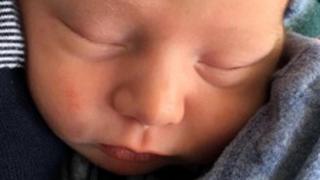 An Aberdeen couple whose son has the same name and birthday as the royal baby say they have "bragging rights" - after calling him Louis first.
The Duke and Duchess of Cambridge revealed the name of their child, Louis Arthur Charles, on Friday.
Carey and Nicky Aiken also welcomed their own son into the world on Monday. They named him Louis earlier this week.
Mr Aiken said the couple "couldn't stop laughing" when they heard the news about Prince Louis.
He said they "couldn't be happier" after the birth of their son.
"Needless to say we love him to bits. He was named after my granddad, Louis Thompson. My nana is chuffed.
"We picked the name out in advance - well, 90% sure, and then when he was born we were set. He looked like a Louis.
"Given we announced the name first, we definitely called bragging rights!"
Louis Aiken was born at 20:05 on Monday at Aberdeen Maternity Hospital and weighed 5lb 8oz.
The new prince, who is fifth in line to the throne, was born at 11:01 BST on Monday, weighing 8lb 7oz.
The second son of the Duke and Duchess of Cambridge, who are known as the Earl and Countess of Strathearn in Scotland, he will be known as His Royal Highness Prince Louis of Cambridge.