Apology for Peterhead broken hip fall treatment wait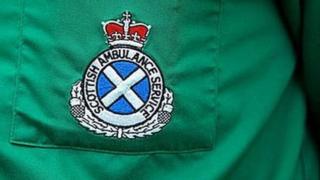 The Scottish Ambulance Service has apologised after an 81-year-man faced a wait of almost an hour for medical attention after breaking his hip in Peterhead.
John Maskame fell off his electric bike last Wednesday morning.
It took 54 minutes for help to arrive, and he was taken to Aberdeen Royal Infirmary for treatment.
The Scottish Ambulance Service said there were "very high levels of demand" at the time.
'Apologising directly'
Mr Maskame's son William Maskame told the Buchan Observer: "He told me that a passer-by managed to get him off the road and sat with him until the ambulance eventually arrived.
"It took around 60 minutes for a doctor to arrive and then the ambulance was another 30 minutes after that.
"I know the paramedics have a hard job and I don't blame them for this, but the system itself is wrong."
A Scottish Ambulance Service spokesperson said: "We received a call at 11:59 on Wednesday 18 April to attend an incident at Prince Street, Peterhead and the incident was not considered to be immediately life-threatening.
"We arrived on scene at 12:53 and Mr Maskame was safely transported to Aberdeen Royal Infirmary, arriving at 14:42.
"Mr Maskame waited longer than we would have liked as we were experiencing very high levels of demand at the time and we will be apologising to him directly."
The statement added: "We are currently in the process of training and recruiting an additional 1,000 paramedics over five years which will further enhance our cover across Scotland."
'Very distressing'
Banff and Buchan MP David Duguid told BBC Scotland: "I was shocked. This was not a remote area by any means.
"It must be very distressing for him, his family.
"I want to be clear, the paramedics themselves I would not want to criticise. They do a great job. I definitely think the system needs to be looked at."