Consultation on Aberdeen City Council job cuts plan begins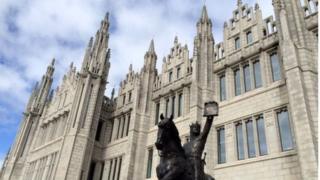 Consultations with unions have begun over plans to cut the number of jobs at Aberdeen City Council.
The local authority said in February that up to 370 jobs could go as it looked to save more than £10m, under a so-called Target Operating Model.
The council said a "commitment to no compulsory redundancies underpins the approach".
The union consultations will run until the end of the month.
'Beggars belief'
This will be followed by individual consultations over the first two weeks of May.
The council said it would not be appropriate to comment on the number of posts that might be affected while the formal consultation was taking place.
However, Tommy Campbell from the Unite union said it "beggars belief" that job numbers identified were mentioned in February but not now.
The council employs about 8,500 staff.