Murder accused 'responsible' for death of man in Fraserburgh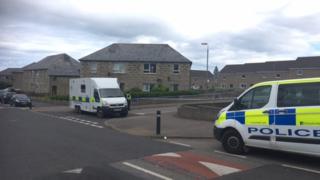 A defence QC has told a murder trial jury that a man was responsible for the death of a 39-year-old in Fraserburgh.
Seven men deny murdering Gary Clampett by attacking him with an array of weapons last June.
The High Court in Glasgow has heard that the fatal blow was a knife wound to Mr Clampett's side and he died from blood loss.
Donald Findlay QC said accused John Henderson was responsible for the death of Mr Clampett.
The defence counsel urged the jury to acquit Gary Martin, who he is representing, of murder.
Mr Henderson, 47, Mr Martin, 37, Joseph Martin, 40, Thomas Martin , 45, David Graham, 46, James Connor, 52, and Dean Leech, 25, deny murdering Mr Clampett.
'Violent acts'
It is alleged they by hit him with knives, a machete, a sword, a chain, a hammer, a crowbar, a wrench, a stick, bats, golf clubs, poles and a metal bat in June last year.
Mr Findlay said: "Mr Clampett died. He is dead because Mr Henderson killed him, there is no doubt about that."
The QC told the jurors: "It is for you to decide whether that was murder or culpable homicide.
"Unfortunately John Henderson killed Gary Clampett. He killed him because he took a knife and killed him."
Mr Findlay told the jury that that did not mean that everyone who was at the incident in Fernie Place was responsible for his death.
He added: "Gary Martin accepts that he was there when violent acts were committed. But he is not responsible in law for the death of Gary Clampett."
The trial, before judge Lord Beckett, continues.