The archaeologists sorting out Orkney's Neolithic bones
By Huw Williams
BBC Scotland reporter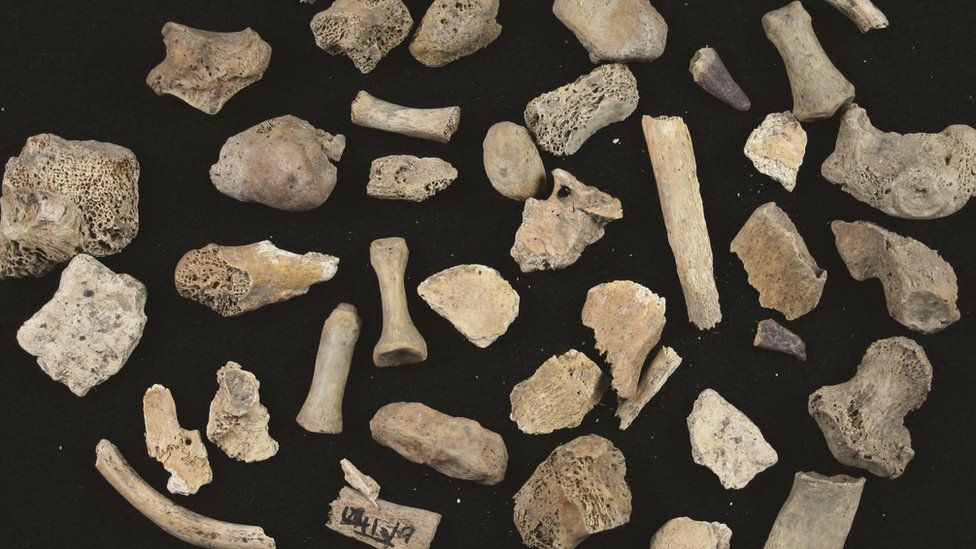 A new study could potentially transform our understanding of the way Neolithic people dealt with their dead.
Archaeologists excavating Neolithic tombs in Orkney are used to finding jumbled collections of bones that seem unconnected.
Now, work by Dr Rebecca Crozier, from the University of Aberdeen, suggests whole bodies were placed in the chambered structures.
She said they could have been dismembered after being buried.
She told BBC Radio Orkney: "What we're trying to do is look at all the bones and try and understand why they are in the mess that we finding them in.
"So we're looking for evidence on the bones to see if there's anything that might indicate how they became so fragmentary. Any cut marks. Any signs of fire damage."
In the past, archaeologists have argued that only partial remains were entombed, perhaps after being left out to be scavenged by birds or animals.
If that had happened, you might expect some bones to be missing completely.
But Dr Crozier believes she has found evidence that whole bodies were buried.
"When we look at these assemblages we're finding that all the elements of the human body - so, every single bone - is present at some level within the tomb," she said.
"So for the Orcadian remains, what I've been arguing is that whole bodies - the entire individual - was placed in the tomb.
"And then, something is happening within the tombs themselves."
That "something" could include artificial human intervention.
Dr Crozier said: "I think that what's happening is that whole people are going inside the tombs, and that people will decay at different rates depending on a huge number of different variables.
"So, perhaps, whoever is in charge if you like, or responsible for what happens to the person inside the tomb, if it's not happening at the right speed (the process) might be assisted.
"That might entail dismemberment of a body, to make sure it fits a prescribed time frame."
Dr Crozier said that may have been done to make sure that the individuals who had been buried became part of the community contained within the tomb.
It could even have been an attempt to exercise control over death itself.
Related Internet Links
The BBC is not responsible for the content of external sites.