AAIB report released on S92 that spun out of control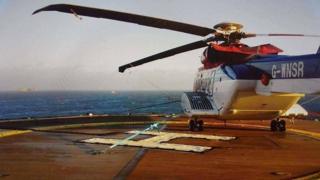 A helicopter which spun out of control - causing damage to a North Sea platform deck - could have crashed into the sea if the fault had happened any earlier, an investigation has found.
The incident, involving a Sikorsky S92, happened on the North Sea's West Franklin Platform in December 2016.
The helicopter came to rest having rotated more than 180 degrees.
According to investigators, there was a bearing failure in the tail rotor that engineering checks had not identified.
No-one was injured but the Air Accidents Investigation Branch (AAIB) said if the loss of control had happened earlier in the flight, the helicopter would most likely have made an uncontrolled descent into the North Sea.
The incident led to the grounding of all S92 helicopters worldwide for urgent safety checks.
CHC, the operator of the helicopter, said it had made changes to improve detection since the accident.
'Partial control lost'
The AAIB said the helicopter's Health and Usage Monitoring System (Hums) had recorded vibration related to the bearing on a flight on the day before the accident.
Routine maintenance was carried out overnight which included a download and preliminary analysis of the Hums data.
An anomaly for the tail rotor gearbox bearing energy was detected, but the check did not identify the issue with the bearing that led to the accident.
The helicopter was in the process of landing on the platform when partial control was lost.
It moved unexpectedly to the right before the pilots landed it hard onto the helicopter deck.
The body of the helicopter continued to spin before it was shut down, coming to rest near the edge of the deck.
The impact left a 15cm (6in) hole in the structure.
'Top priority'
A spokesman for CHC said: "Immediately after the accident, we introduced a number of measures to strengthen the detection of impending degradation.
"We are confident that the measures we have taken and the actions directed by Sikorsky since the accident to all operators worldwide will strengthen both our procedures and our compliance monitoring and continue to underpin the safety and airworthiness of the Sikorsky S92.
"CHC's top priority is the safety of everyone we carry in our aircraft.
"We have well-established procedures and have been at the forefront of developing industry guidelines for Hums best practice."
The spokesman added: "We never take safety for granted and have already taken steps to further strengthen procedures and our compliance monitoring, as well as sharing this information with other operators."