Nine-day University of Aberdeen student sit-in protest ends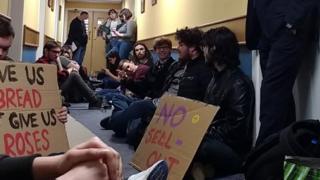 A nine-day student protest at the University of Aberdeen has ended.
Several students occupied the senior management corridor in Regent Walk on 13 March.
The occupation was in solidarity with academics involved in the University College Union (UCU) pension dispute.
Lewis Macleod, communities officer at Aberdeen University Students Association (AUSA) said: "To ensure the wellbeing of everyone involved, it was time to bring it to an end."
He added: "This has been one of the biggest actions we've seen on our campus in years."