Student protests held in Aberdeen and Edinburgh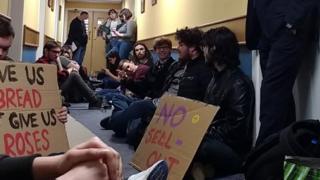 Protests are being held by student groups in Aberdeen and Edinburgh amid a union wrangle over pensions.
Around a dozen students took up position in the senior management corridor at the University of Aberdeen's administration building in Regent Walk.
And University of Edinburgh students occupied the Gordon Aikman Lecture Theatre.
It is amid the University College Union pension dispute.
On Tuesday, strikers turned down an agreement reached by university union leaders and employers to end the pensions dispute.
It means the strike will continue - with threats to disrupt final exams and assessments in the summer term.
The action, now in its fourth week, has disrupted classes at more than 60 universities, including eight in Scotland.
The University of Aberdeen said the student protest was peaceful.
And the University of Edinburgh said: "The university supports the right of people to protest lawfully and peacefully."