First female bishop Anne Dyer consecrated for Orkney and Aberdeen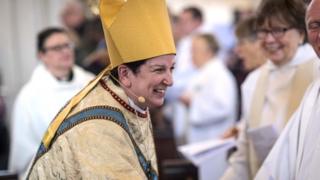 The first woman bishop in Scotland has been consecrated.
The Scottish Episcopal Church said the consecration of Canon Anne Dyer as Bishop of Aberdeen and Orkney - a supporter of marriage equality - was a "significant and historic event".
She became the Rt Rev Anne Dyer after the service at St Andrew's Cathedral in Aberdeen
She succeeds the Rt Rev Dr Robert Gillies, who retired as Bishop of Aberdeen and Orkney in 2016.
The Scottish Episcopal church previously defended the selection after a group within the diocese called on her to consider standing down.
She was elected by the college of bishops after the diocese itself twice failed to draw up a shortlist of at least three suitable candidates.
But 18 clergy and lay members of the church who objected to the appointment said the process was "divisive" and "disrespectful".