Sumburgh landing gear concern flight touches down in Aberdeen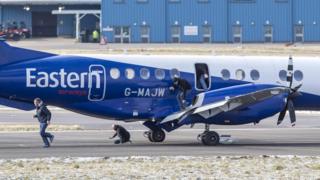 A flight from Aberdeen to Shetland that had to turn back and circle has landed safely.
The Eastern Airways Jetstream 41 left for Sumburgh at 09:53 but the crew reported a cockpit warning indication relating to the nose landing gear.
It returned and circled over Aberdeen for some time, before eventually landing at 12:35. The passengers left via an over-wing exit.
Eastern Airways said engineers would inspect the aircraft.
A spokesman said: "We apologise to passengers for the inconvenience, but the safety of our passengers and crew is paramount."
There were three crew and 18 passengers on board.