Fraserburgh and Rangers match lock-out probe over fake tickets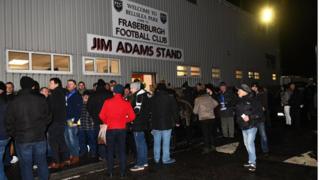 Fraserburgh FC has launched an investigation after fans were shut out of the ground due to fake tickets being used at the Scottish Cup game against Rangers.
The gates had to be closed with fans still queuing at Bellslea Park when the ground reached capacity.
About 150 supporters had to be shut out of the ground.
Fraserburgh chairman Finlay Noble said fans who missed out would be reimbursed.
Bellslea Park, which is in the centre of the town, has a capacity of 3,000 - with a total of 480 seats.
The club said on the night: "The capacity of the stadium is now full and we believe this is due to a number of counterfeit tickets in the away end.
"No further persons can be admitted. The club will hold an investigation and further details will be advised."
Mr Noble told BBC Scotland on Thursday: "Roughly about 150 people did not get in.
"It was a health and safety issue, the gate was closed.
"The last thing we want is people getting injured because of overcrowding."