Sheriff orders cash release to pay Malaviya Seven crew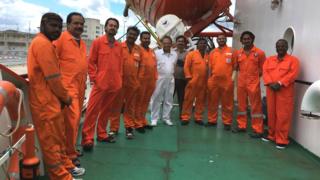 The crew of the troubled Malaviya Seven supply ship look set to be paid within the week.
The workers have been waiting for £714,000 in unpaid wages for almost two years.
The crew spent 18 months stuck in the city's port after the ship's former owner was liquidated.
A sheriff has ordered the release of money to the International Transport Workers federation will pay the men involved.
The ship set sail from Aberdeen Harbour on Saturday afternoon under its new name Sartor after its sale was completed.
The Malaviya Seven was detained in June 2016, and again in October that year, under merchant shipping regulations.
The local community supported the crew as they stayed with the ship during that time.
The ship was eventually sold in November last year to a Norwegian company, and the last of the crew returned to India.
However, ongoing court proceedings delayed the payment further.
All parties with a financial interest in the vessel, including Aberdeen Harbour Board and the Union Bank of India, had to be informed by law that the ship had been sold, and that process is thought to have caused the delay.
The case was heard again this morning at Aberdeen Sheriff Court.
Doug Duncan, the port chaplain was there: "First of all I went to the church to do a little prayer for the guys, then to the court.
"It's been a great morning, a great success for the guys.
"They will be really happy once they hear because they have struggled.
"Hopefully over the next week, two weeks money will be available to them to pay off the debts that they have incurred."