Fears over Aberdeen International Youth Festival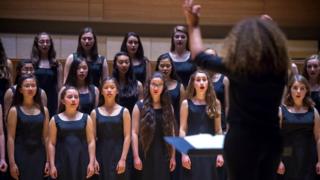 The Aberdeen International Youth Festival is at serious risk of being cancelled this year, BBC Scotland understands.
Aberdeen City Council recently voted to withdraw funding for the annual event.
The board of trustees is currently what is known as "inquorate" after the resignation of a number of councillors.
With no functioning board, it means proper arrangements to attract acts for AIYF from 27 July to 4 August cannot be made.
The board is also being investigated by the Office of the Scottish Charity Regulator (OSCR).
It is understood that AIYF staff are currently only able to make tentative arrangements for this year's festival.
'Incredibly disappointing'
Efforts are ongoing to try and recruit councillors to the board to try and make it compliant again.
A council spokesman said: "No decision has been taken by Aberdeen City Council in relation to AIYF trustees.
"A report is expected to be considered by councillors on 5 March."
The council decision to withdraw funding was described as "incredibly disappointing" by Culture Secretary Fiona Hyslop earlier this month.
Councillors instead decided to approve £100,000 for a Year of Young People Cultural Award Programme.
The annual youth festival event has been running since 1973 and has hosted an estimated 30,000 young people from around the world.