Search suspended for Lochnagar walker as winds reach 100mph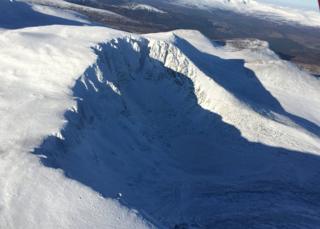 The search for a missing 65-year-old hillwalker in Lochnagar has been suspended.
Braemar Mountain Rescue said winds of 100mph had been recorded nearby as they conducted the major operation on Saturday.
The alert was raised at 19:30 on Friday when the man failed to return.
Earlier, a search and rescue helicopter located two men who had been missing overnight after walking in the Blair Atholl/Glen Tilt area in Perthshire.
The search for the missing man at Lochnagar will resume on Sunday morning.
Braemar Mountain Rescue Team said: "Unfortunately after more searches today in the Lochnagar area, the missing male has not been located.
"Again - testing conditions for the troops with a gust of over 100 mph recorded on nearby Cairnwell.
"Thanks for the assistance from RAF Lossiemouth, Duddon and Furness (who were winter training in the area) mountain rescue teams and and dogs from Sarda Scotland."
The search began on Friday evening amid challenging conditions with blizzards at higher levels.
The wind and snow also hampered the rescue helicopter which had to wait at Ballater for the weather to clear at one point during the night.
Police Scotland said a man matching the description of the missing hillwalker was seen ascending the mountain at 14:30 on Friday.
He is described as having white hair, wearing green winter jacket and using walking poles.
Insp Darren Bruce said: "Last contact with the missing man was at 19:30 hours that evening.
"Following notification to police, trained mountain rescue teams aided the search in difficult conditions and in darkness.
"Searches continued today despite appalling weather conditions. In addition to Braemar and Aberdeen Mountain Rescue Teams, personnel from the RAF and the Lake District Team, along with Sarda dogs have been deployed.
"Conditions cleared this afternoon during a small window which allowed a helicopter to cover larger open areas from above.
"Weather conditions at this time of year can be challenging for the most experienced of walkers and climbers and today we've seen extremely high winds. Searches will continue tomorrow".