New Aberdeen FC Kingsford stadium plans approved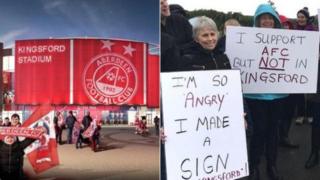 Aberdeen FC's plans to build a new stadium have been overwhelmingly approved by councillors.
The club wants to construct the £50m stadium and training facilities at Kingsford, near Westhill. The plans were put on hold last October.
Aberdeen FC says the new facilities are vital to its future. Objectors say the stadium should be located elsewhere.
Planners backed the project, and councillors voted 32-9 in favour on Monday afternoon.
Objectors will now pursue a judicial review.
Aberdeen FC chairman Stewart Milne, said: "After 17 years, we are one step closer to a new home that will allow us to meet our vision and ambition for Aberdeen Football Club, our city and our region.
"We applaud the councillors for taking this decision in the face of considerable objections.
"We are fully aware of and sympathetic to those in Westhill and Kingswells who have objected to our plans and I want to reassure them once more that we want to engage with them to deliver community facilities they can all enjoy and benefit from."
The No Kingsford Stadium protest group said they had funds in place for a judicial review.
The organisation said in a statement: "No Kingsford Stadium has worked tirelessly to prevent the approval of this application.
"We have shown that the application is contrary to the development plan.
"It is our view that council officials and councillors have failed in their duty to apply the law in this case and we will now progress our petition for judicial review."
Councillors debated a motion supporting the recommendation of planners and an amendment from councillor Marie Boulton, who wanted the application to be rejected.
Aberdeenshire Council had earlier objected to the plans.
Senior planner Gavin Evans told councillors that Aberdeenshire Council could effectively still stop the application, over the issue of controlled parking zones.
It has been claimed the stadium and training ground would create more than 400 jobs and bring millions of pounds into the local economy.
Objections have been raised on grounds including potential traffic issues and loss of green belt land.
Planners noted in their report: "Should members resolve to approve the application, due to the objection from Aberdeenshire Council, formal notification must be given to Scottish ministers, who would then have the opportunity to 'call-in' the application for determination."