Call for 2013 Shetland helicopter FAI as soon as possible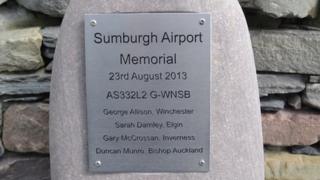 An MSP is calling for a fatal accident inquiry into a helicopter crash which killed four people in 2013 to be held as soon as possible.
A total of 18 people were on board when the Super Puma crashed on its approach to Sumburgh.
Sarah Darnley, from Elgin, Gary McCrossan, from Inverness, Duncan Munro, from Bishop Auckland, and George Allison, from Winchester, died.
Shetland MSP Tavish Scott has lodged a Holyrood motion about the FAI.
'Without further delay'
The Crown Office said it was a "highly complex and challenging" investigation.
Lib Dem MSP Mr Scott said: "I want the Crown Office to ensure the earliest possible holding of the FAI into the circumstances surrounding the helicopter crash at Sumburgh in 2013.
"Four years after the tragedy, families still wait for closure.
"Everyone involved would want this FAI to be held without any further delay."
'Specialist input'
A Crown Office spokesperson said: "The investigation into the Sumburgh helicopter crash on 23 August 2013 by Police Scotland, working with the assistance of the Civil Aviation Authority and under the direction of the Crown, is ongoing.
"The Air Accidents Investigation Branch report covering the safety investigation was published in March 2016 and raised a number of issues that require to be considered as part of the wider investigation.
"We will endeavour to carry out our investigation as quickly as possible but the investigation is highly complex and challenging and requires specialist input from those with the necessary expertise in civil aviation.
"We will continue to keep the families advised of all significant developments."
In August last year, the mother of victim Sarah Darnley called for the FAI to be held soon.
Anne Darnley said that relatives needed a conclusion.