No further action on Aberdeen repair probe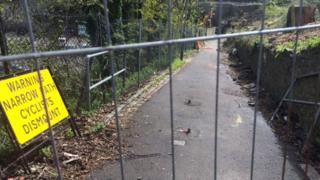 Scotland's public spending watchdog has said it will take no further action after £200,000 of repairs were ordered to an Aberdeen cycle path without proper approval.
The Wellington Brae project in Aberdeen was to be funded by cycling charity Sustrans but work was halted.
Aberdeen City Council previously admitted the project did not follow the required governance procedures.
Audit Scotland has now said no further audit work is required.
In September, Aberdeen City Council was instructed to apologise to former councillor Willie Young after an investigation into the repair order involving land owned by his father.
Mr Young denied any wrongdoing.
The city's former finance convener, who lost his seat at the local government elections, said he felt "vindicated" at the time.
An Audit Scotland spokesperson said: "We asked KPMG, our appointed external auditor for Aberdeen City Council, to review the council's investigation into governance and procedural issues around the Wellington Brae cycling walkway project.
"The council has agreed a number of actions to address various failings. We conclude from our review that no further audit work is required on this matter.
"Like all councils, Aberdeen will still be the subject of an annual audit report."
The wall has since been rebuilt.