New Aberdeen FC stadium backed by council planners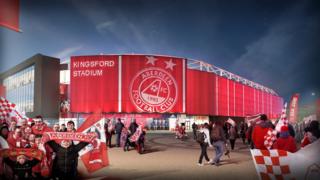 Aberdeen FC's bid for a new stadium has been backed by planners.
The plans for the £50m stadium and training facilities at Kingsford, near Westhill, were put on hold back in October.
Council planners have now recommended the project for approval. Aberdeen City Council is due to rule on the plans on Monday.
The club says the new facilities are vital to its future. However, objectors want Aberdeen FC to look elsewhere.
Aberdeenshire Council also objected to the plans.
Call-in opportunity
Planners recommended approval subject to conditions and conclusion of a planning obligation securing developer contributions relating to core paths, and setting up and operation of a public transport steering group.
The report said: "It is considered that the proposal would have significant public benefits for the region - both economic and social."
It explains: "Should members resolve to approve the application, due to the objection from Aberdeenshire Council, formal notification must be given to Scottish Minsters, who would then have the opportunity to 'call-in' the application for determination."
Aberdeen FC chairman Stewart Milne said: "We are very pleased that the planners are recommending approval of our planning application."
'Deeply concerned'
The No Kingsford Stadium group said: "NKS is deeply concerned by the recommendation for approval. This application is being recommended for approval on economic and public benefit which has not been proven.
"We will be contacting our legal team to begin to review the report with a view to taking further action should councillors vote to approve the application."
It has been claimed the stadium and training ground would create more than 400 jobs and bring millions of pounds into the local economy.
A fresh pre-determination hearing was held last week.
Club manager Derek McInnes said other teams would "pull away" from Aberdeen FC if it did not get the new stadium.
Objections have been raised on grounds including potential traffic issues and loss of green belt land.