Police blame A96 crash on metal frame in road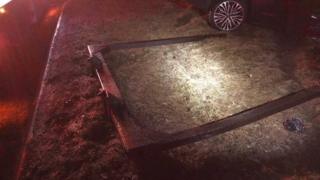 A metal frame similar to one used on logging lorries caused a road accident in Aberdeenshire, according to police.
Three vehicles sustained "significant damage" when they collided with the u-shaped frame on the A96 on Friday.
The accident happened between Colpy and Huntly at the Glens of Foudland shortly before 20:00.
Officers said the metal frame had the potential to cause a "very serious" accident and they appealed for help in tracing its origin.
They believe it fell from another vehicle before the crash happened.
A force spokesman said: "I am appealing to anyone who may have witnessed the u-shaped metal frame fall from a vehicle or saw a logging type vehicle on this road or has any dash cam of a journey taken on the A96 between Inverurie and Huntly in either direction around 19:56 to contact the police."