Concern over Scotland's City Region deals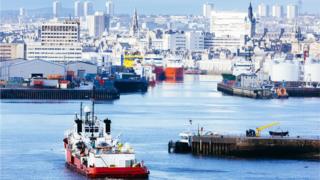 Scotland's new City Region Deals have "significant" problems that need to be addressed, according to MSPs.
The economic growth projects are focused on Aberdeen, Inverness, Glasgow and Edinburgh.
Holyrood's local government and communities committee said objectives needed to be clearer.
Economy Secretary Keith Brown said "inclusive economic growth" was being delivered but that the report would be considered.
The City Region Deals offer more than £3bn of investment in Scotland, with the UK and Scottish governments collaborating on the projects with local councils.
But the committee said the UK and Scottish governments appeared to have different policy objectives.
The MSPs said there was some "scepticism about what is being promised", particularly regarding forecast job numbers.
The report also said the committee was "not convinced" about the selection process for projects to be taken forward as part of the deals, and it was "not clear" how remote or rural areas would benefit.
SNP MSP Bob Doris, who chairs the committee, said: "We welcome the significant investment of £3.3bn to create new jobs and build exciting and thriving areas around our major cities, some of which are in the most impoverished and deprived areas of Scotland.
"But it's clear from the evidence we have heard and our committee visits that there are significant issues with City Region Deals that must be addressed.
"That's why we strongly recommend that all governments, national and local, work together and agree to a single focus, as a key priority should be maximising the benefits for local communities."
'Economic levers'
Economy Secretary Mr Brown said: "We remain committed to securing city region deals for Stirling and Clackmannanshire and for the Tay cities, as well as delivering regional deals for Ayrshire and for the Borderlands.
"City region deals are only one of our economic levers.
"We are focused on improving the economic prospects of every region in Scotland and will work to ensure that all areas benefit from Regional Economic Partnerships, which provide opportunities for local communities and businesses to engage in regional economic planning and development."
A UK government spokesman said: "We welcome the committee's scrutiny and agree that UK City Deals have brought, and will continue to bring, significant investment into Scotland, supporting local priorities and strengthening the country's economy by driving productivity, wages and growth."
He said the government was committed to a Borderlands Growth Deal and was in talks for two further city deals in Scotland.