Forties pipeline back to normal 'at new year' after crack repaired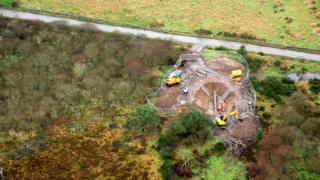 One of the UK's most important oil and gas pipelines is now expected to be running at normal levels around the new year, after a crack was repaired.
The Forties pipeline carries crude North Sea oil across sea and land for processing at Grangemouth.
It was closed after the crack was discovered at the start of December near Netherley in Aberdeenshire and a safety cordon was put in place.
Operator Ineos said the cordon had now been removed.
Ineos said all restrictions on the flow of oil and gas into the pipeline system had now been fully lifted.
The unclassified CK12 Netherley to Cookney road, which passes close to the site, has also now been re-opened.
Industry body Oil and Gas UK earlier said the loss in production while the pipeline was closed was worth about £20m per day.