Aberdeen bypass contractor penalised £280,000 over river pollution
By Kevin Keane
BBC Scotland's environment correspondent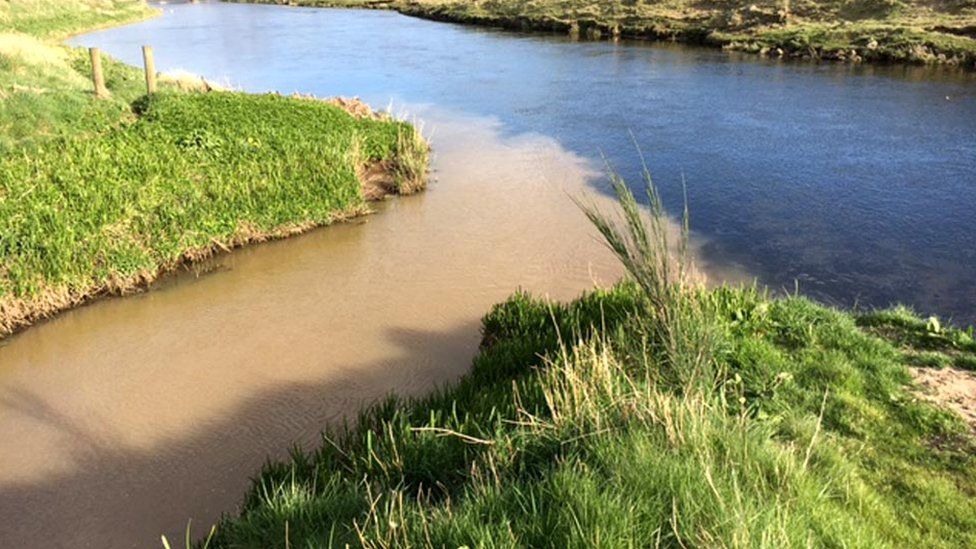 The contractor building the new Aberdeen bypass has been issued with a £280,000 penalty for polluting two of Scotland's most important salmon rivers, BBC Scotland can reveal.
The Aberdeen Roads consortium was responsible for a series of silt pollution incidents on the rivers Don and Dee along with some tributaries.
The incidents between 2015 and 2017 stopped construction for several weeks.
The money will be distributed among local community groups.
It is the biggest case since the Scottish Environment Protection Agency (Sepa) was given penalty powers without the need to take companies to court.
Under the Offer of Enforcement Undertaking a further sum, of almost £50,000, will be paid to Sepa to cover the cost of the investigation.
The ongoing Aberdeen bypass work is one of the biggest infrastructure projects in Scotland with a price tag of £745m.
Sepa chief executive Terry A'Hearn told the BBC's Good Morning Scotland: "It was a significant incident because there were 47 instances where there was silt pollution into a number of rivers, about 17 watercourses.
"This potentially impacts a number of species.
"It was silt from construction - an oil spill would be worse."
He added: "Every day Sepa works to protect and enhance Scotland's environment and we will respond robustly to organisations who fail to comply with environmental controls. Every operator must comply.
"It's right that the Construction Joint Venture should offer this significant enforcement undertaking in recognition of the environmental impact of their actions, which resulted in a series of silt pollution incidents impacting numerous tributaries to Aberdeenshire rivers, the Dee and the Don.
"An enforcement undertaking not only compels those who breach the law to make amends, it instils a more positive working relationship based on understanding the duty we all share in safeguarding our natural environment".
The silt pollution was caused by heavy rainfall which led to muddy water running off the construction site into waterways.
Concerns were raised at the time about the impact it could have on salmon and freshwater pearl mussels.
The biggest beneficiary from the cash is the Dee District Salmon Fisheries Board which receives £150,000 to fund pollution improvement projects.
Richard Gledson, chairman of Dee District Salmon Fisheries Board, said: "Silt pollution from the construction of the Aberdeen Western Peripheral Route gave us great cause for concern, particularly as the River Dee is designated as a special habitat for both salmonid fish and fresh water pearl mussels, which rely on a delicate eco-system to feed and spawn.
"We welcome both the immediate response by Sepa, including the temporary restriction of construction activity, their investigation, and today's enforcement undertaking.
"This will provide for environmental improvements that will go some way to offsetting the impact on local communities and the environment."
Transport Scotland said: "We take our environmental responsibilities very seriously and have been working closely with Sepa and the contractor, Aberdeen Roads Ltd (ARL), to ensure the watercourses on site are protected from construction activities.
"We welcome any measures that have been agreed between Sepa and ARL where they result in a positive impact on the environment."
Related Internet Links
The BBC is not responsible for the content of external sites.