Denis Law receives Freedom of Aberdeen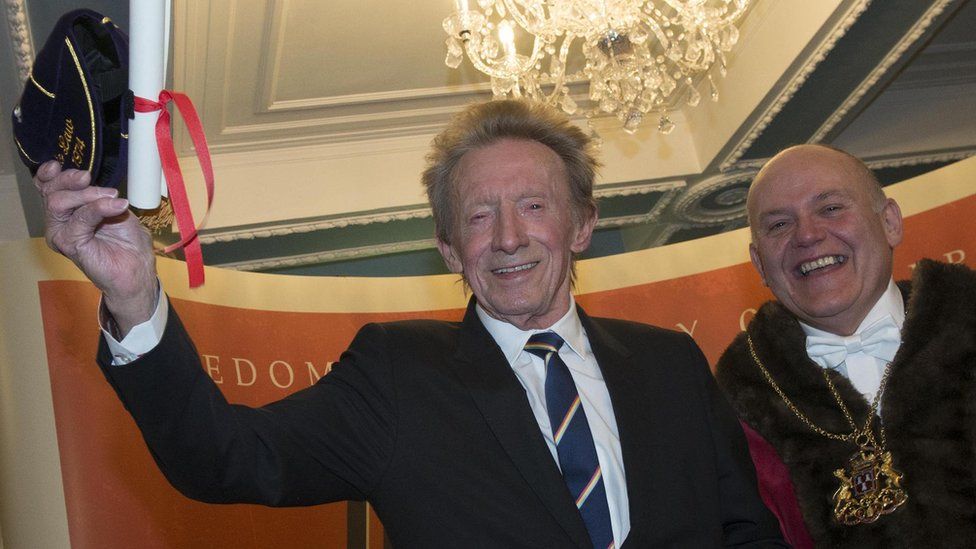 Former Scotland international footballer Denis Law has received the Freedom of Aberdeen.
The 77-year-old, who was born and raised in the Granite City, has described the honour as "one of the highlights of my life".
He was made a freeman during a special ceremony on Saturday evening. Then, on Sunday evening, he will take part in a parade along Union Street.
Known affectionately as The Lawman, he scored 30 goals for Scotland.
The former European footballer of the year was born in Powis and went to Powis Academy, before moving away to play for Huddersfield when he was 16.
He went on to play for clubs including Manchester United, Torino and Manchester City.
Law was one third of what became known as Manchester United's Holy Trinity, when he played alongside George Best and Sir Bobby Charlton during his 11-year stint with the Red Devils.
He scored for Scotland in a famous 3-2 victory against then world champion England in 1967 at Wembley.
Law rounded off his career by representing Scotland at the 1974 World Cup in West Germany.
The Sunday parade will begin at 17:30, arriving at the Town House at 18:15. It will form part of the event marking the switch-on of the city's Christmas lights.
Others to have received the honour include former Soviet premier Mikhail Gorbachev, Sir Alex Ferguson, and the cast of Scotland the What?