New Aberdeen FC stadium economic benefits 'could be even greater'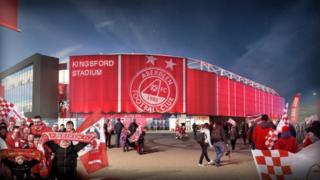 The economic benefit of Aberdeen FC's planned new stadium could be greater than originally predicted, according to a new report.
The club put plans for the £50m stadium and training facilities at Kingsford, near Westhill, on hold in October.
A fresh public consultation is being held, and a further pre-determination hearing will be held in the new year.
Aberdeen FC said analysis by Aberdeen and Grampian Chamber of Commerce (AGCC) showed "no doubt" about the benefits.
Those opposed to the plans are calling for the club to look elsewhere.
New jobs
The original pre-determination hearing was held in September.
Additional information in support of the planning application has now been published.
The report says the plans would create more than 440 construction jobs, and the stadium, sport and training facilities would bring millions of pounds into the economy.
It also warns that crowd figures will suffer by not moving, and there is a risk of losing European football.
Raymond Edgar, project director for Kingsford said: "With this additional detail and analysis, there is now no doubt about the overall economic benefits to the city and wider region associated with our ambitious plans for Kingsford."
'Outweigh downsides'
Russell Borthwick, chief executive of AGCC, said: "In addition to the compelling evidence of the economic benefits to the wider city region, it was vital that the club was able to understand and demonstrate the potential impact on trade of moving away from the city centre.
"The chamber is encouraged that the economic analysis shows the benefits of the stadium move significantly outweigh any downsides from lost city centre spending by fans."
Clare Davidson, from the No Kingsford Stadium group which opposes the project, welcomed the chance to have another say on the plans.
She said: "It's good in a sense that we have now got this opportunity to make further comment."
The closing date for written representations to be submitted to the council is 12 December.
Concerns have included traffic and parking issues.