Fresh consultation on new Aberdeen FC stadium at Kingsford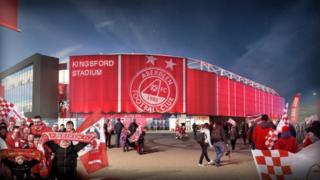 A fresh public consultation will be held on Aberdeen FC's new stadium plans.
The club put plans for the £50m stadium and training facilities at Kingsford, near Westhill, on hold in October.
The date for a further pre-determination hearing has been provisionally set for 17 January.
It means a ruling on the application now will not be taken before the end of the year, as officials at Pittodrie had hoped.
The club admitted it was frustrating.
Those opposed to the plans have called for the club to look elsewhere.
The consultation will begin during the course of next week.
'Right decision'
The closing date for written representations to be submitted to the council will be 12 December.
Raymond Edgar, project director for Kingsford, said: "While we had been hoping for a decision on our application before Christmas, we now have an agreed timetable with the council which will allow the proposals to be fully considered by councillors in January.
"Following the deferral in October, we have worked with the council planning officers to provide further reassurance that the club's approach to selecting Kingsford complies with legal requirements.
"In addition, we have undeniably demonstrated there are no other suitable, available and sequentially preferable sites within the city which could accommodate the development.
"While the club recognises that the delay has been frustrating for all those who continue to back our plans, it's vital that we have the best chance of securing the right decision."
The original pre-determination hearing was held in September.